These days, Uzbekistan widely celebrates the national holiday Navruz. The recently opened Humo Arena complex in Tashkent has hosted the central festive event today.
The area around the venue was decorated accordingly. In particular, an exhibition reflected the traditions of our people associated with Navruz, national costumes and folk arts and crafts were displayed, while tightrope walkers pleased the eye of the visitors with their talents. Tables were covered with spring dishes.
The sounds of karnai and surnai announced the start of the celebrations.
Those gathered for the grand occasion welcomed the President of Uzbekistan Shavkat Mirziyoyev with applause.
The head of our state then delivered a speech and congratulated compatriots and foreign guests on the holiday of Navruz.
"I express great respect and the best of my wishes to all our compatriots who organize sayils (outdoor festivities – transl.) devoted to Naviruz in these beautiful days in all cities and districts, villages and auls. May your life be bright like a spring morning, joyful and prosperous! May Navruz bring prosperity and happiness to every home, every family," the President suggested.
The celebrations continued with a colorful concert show. The performances reflected the traditions, distinctive art and folk games of every region of the country.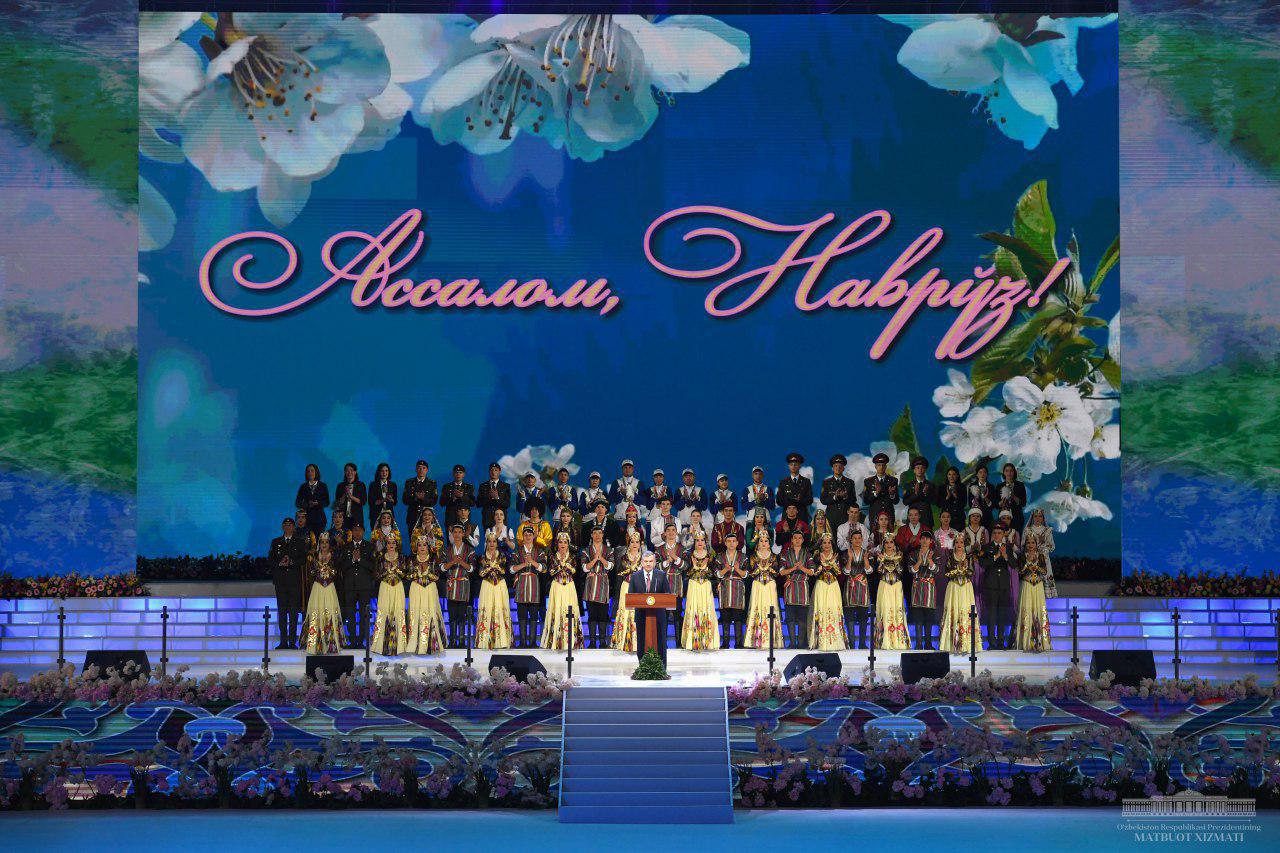 Folklore and ethnographic groups wished success to the farmers, sang songs about Navruz, nature, love and care. Performances of entertainers, merry dances of children afforded everyone a blissful mood.
Immense monitors behind the stage displayed the charming landscapes of the native land, pictures of prosperous life and creative efforts of our people.
Our people met the current Navruz with remarkable successes in diverse walks of life. Hundreds of new residential buildings, modern enterprises, palaces of culture and sports were built.
Strategic projects in industry, agriculture, transport, tourism and other areas have been implemented. As a result of measures taken to secure sustainable development of the economy, real incomes of the population grew last year by 12 percent compared with the 2017 figure.
The active, open and constructive foreign policy pursued by Uzbekistan has facilitated the growth in the international prestige of the nation. Our country has exchanged nearly twenty official visits with foreign partners and important promising agreements were reached. Relations of mutual confidence and cooperation with neighboring states have become even stronger.
Each and every family and team see and feel the effects of this transformation in their lives, they celebrate holidays in peace and harmony.
The festive event was attended by representatives of public and social organizations, members of parliament and government, compatriots fruitfully working in various fields, representatives of the diplomatic corps accredited in our country.
Navruz celebrations are in progress in the Republic of Karakalpakstan, in all regional and district centers, villages and auls.